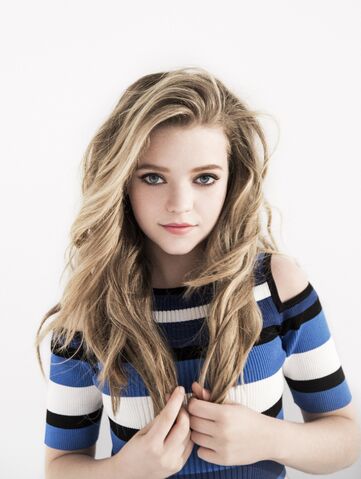 Full Name:
Oriana Nelson
Goes by:
Ori or Ana, depending which group of friends you talk to. To people she's just met, she goes by Oriana.
Gender:
Female
Sexual Alignment:
Asexual, biromantic
Hair colour and style:
Blonde, although she dyes it sometimes. It reaches her mid-back, and curly. She usually leaves it long.
Eye colour:
Light blue, almost grey.
Height:
5 foot 6
Body type:
Average; she's neither super skinny nor overweight.
Dress sense:
It really depends on her mood. She either wears dresses or jeans and t-shirts, but she doesn't have a favourite style per se.
Birthmarks:
None.
Scars:
Just the typical stuff from childhood.
Etcs:
She has pierced ears and bellybutton.
Likes:
(min 3)
- Having fun
- Reading
- Strategy games
- Ocean animals
Dislikes:
(min 3)
- Being told what to do by people she doesn't respect
- Heights; she's afraid of them
- Wild parties
- Fur/animals with fur
- Meat (she's vegetarian by choice, although not for any reason other than she doesn't like the taste of meat.)
Strengths
(min 3)
- Logic; she's good at figuring things out logically.
- Cooking; she's just got a natural flair for understanding the relationship between ingredients, and makes things work really well.
- She has the natural ability to see a situation and make an accurate judgement of it; she's observant and astute.
Weaknesses:
(min 3)
- A challenge; she will rise to the occasion, whether or not it's smart to do so.
- A puzzle; she hates things being unsolved.
- Food, especially unusual combinations or 'weird' flavours.
Positive Traits
(min 3)
- Humble; she doesn't ever brag about any accomplishments she has. If she does a good deed, she sees no need to boast or shout about it. Not many people, therefore, know the extent of her abilities -- simply because she doesn't talk about them.
- Adventurous, especially when it comes to food.
- Loyal, although only to her family. When she says family, however, she doesn't just mean blood relatives, but rather those around her that she considers and loves like family.
Negative Traits
(min 3)
- She can be rather self-centered, doing things that work in her benefit. With the exception of 'family' (see above), she's willing to throw anyone and everyone else under the bus, including friends, if it means saving her own skin or that of a family member.
- While she can appear to be obedient and accommodating, Oriana has a problem with authority. If she doesn't respect someone, she doesn't listen to them (unless not obeying has negative results for her).
- A little
too
carefree at times; as long as she's having a good time, to hell with what everyone else thinks or expects from her.