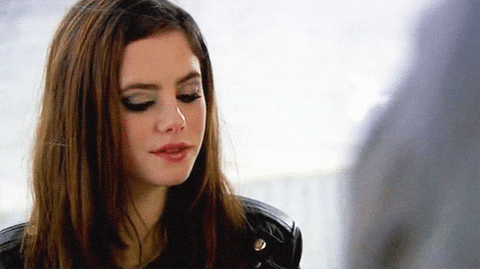 Full Name:
Florence Belle Byrne
Goes by:
Florrie
Gender:
Female
Sexual Alignment:
Straight
Hair colour and style:
Dark brown hair that is naturally curly, though she sometimes straightens.
Eye colour:
Blue
Height:
Eventually, will be 5 foot 5
Body type:
Slim
Dress sense:
The definition of teenage rebellion when her parents aren't around. When they are, her style is more perfectly classic.
Birthmarks:
N/A
Scars:
N/A
Etcs:
She likes eyeliner and dark eye shadow.
[center]
Likes: (3 minimum)
- Success- it means that her hard work has paid off and she can reap the benefits, it's great
- Parties- dancing, drinking, all that fun stuff- it was simply enticing- and occasionally she needed to loosen up
- Fictional books and pop culture- it's nice to kind of ignore reality occasionally and just be absorbed into fictional realms
- Socialising- but really only with a few close friends. She's by no means and extrovert, and she enjoys alone time- but friends can be fun too.
- Flirting- it's a bit of fun, nothing too serious
Dislikes: (3 minimum)
- Laziness- people like her brother who act lazy, who can't seem to keep their things together and expect people to do everything for them seriously vex her
- Suck-ups- those that seem to lick their superior's boots simply to get ahead while putting in the least work possible are irritating. She usually avoids befriending people like that- she doesn't like dealing with the drama that comes with it. While she understands why people do it, she prefers other means to get what she wants.
- Loud chewing- it's disgusting. Chew with your mouth closed. Enough said.
- Poor grammar- ever heard of proof-reading?
- Rowdiness- a little is okay, but when things get too out of control, that's when she simply can't deal.
Strengths: (3 minimum)
- She's confident- she doesn't put up with another person's crap and readily defends herself when she feels as though someone is speaking to her in a condescending manner.
- Driven- she likes success, and she'll achieve it through almost any means
- She's loyal to those that give her the same loyalty.
- She can be very charismatic and rather charming when needed
Weaknesses: (3 minimum)
- Has difficulty trusting people- she gets to know people, but she has a hard time letting someone else get to know herself on a deep level
- Difficulty expressing her true emotions- she usually tends to opt for a facade of pleasantness- it's much easier to deal with
- Enjoys the things that are bad for her, perhaps a little too much- whether that be a particular substance or a person, it's not good.
- Her mind (especially in her adolescent years) can be a struggle to live with
Positive traits: (3 minimum)
- Brave- she is willing to take risks if the reward outweighs the risk
- Confident (or can at least act confident)- she will always stick up for herself if needed- she hates condescending people. Her natural charisma also helps with this
- Loyal- those who are lucky enough to be friends with her, will always have a loyal friend, as long as they are loyal in return of course
- Independent- she dances to her own beat
- Thoughtful- for the most part. She will rarely impulsively jump into something.
Negative traits: (3 minimum)
- Manipulative- she has great intuition with how people think, and definitely uses that to her advantage
- Selfish- gets very absorbed with her own wants that she can get rather ruthless at times
- Pessimistic- she assumes the worst, it's an awful habit
- Detached from people- she has friends, she has close friends, but she feels like she can't get to know people like others know each other, and no one seems to know her
- Stubborn- she knows when she's right, and no one will sway her unless they happen to prove themselves thoroughly